SOLD!
KR-2 For Sale
SOLD!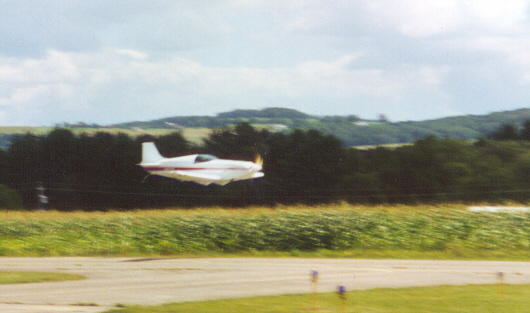 $8,500
I really don't want to sell my KR-2, but I have to. I have only flown it once and the retractable gear collapsed on landing. I would like to keep it and replace the original retracts with fixed gear, but I need the money and have another plane to fly. (Albeit, not as fast or inexpensively!) The 40 hrs. of test flying has not been completed, so you would have to take care of that. It was very simple to get a new test area from the FAA, so you will have no problem. The workmanship of this bird is incredible and you will not be disappointed when you see it. The photos are great, but you obviously can't see everything.
I will add some photos of the damage done on the gear collapse landing, but it wasn't much. When the gear is retracted the tire is less than halfway into the wing, so it rolled on the tires. Nothing touched, but the gear fairings, the exhaust pipes, prop, pitot tube and fuel vent. The gear does not appear to be damaged in any way, but the locking mechanism didn't hold for me.
The repairs that will need to be done are:
Replace prop

Repair pitot tube

Repair main fuel tank vent tube

Repair the exhaust pipe ends

Test/Prove gear locking mechanism or replace with fixed gear legs

A little fiberglass work to redo the fairings on the retractable gear if keeping them.

A little more fiberglass work if switching to fixed gear.
Improvements I would recommend:
Add ram air scoop on bottom cowl (have scoop already made to install on cowl).

Replace mechanical brakes with hydraulic brakes (requires fixed gear).
I purchased this homebuilt aircraft in February 2002. It is a great little airplane that is built with wood, foam and fiberglass. The workmanship on this bird is absolutely fabulous. Very nice fiberglass work. They are very efficient and fast. Below are some details and photos.

FIREWALL FORWARD:
2400cc Type IV VW engine putting out about 85 HP for takeoff and 78 HP for cruise.
All Great Planes components
Had an Ed Sturba 52x52 wood prop
Electric start
Single ignition
Tuned exhaust headers
Revflow carburetor
Carb heat muff
Complete engine baffling
Cabin heat muff
Oil cooler
18 hours total time (3.5 hrs actual flight).
Engine instruments include:
Tachometer
Oil pressure
Oil temp
Ammeter
Voltmeter
CHT - Cylinder Head Temperature
EGT - Exhaust Gas Temperature
AIRFRAME:
Retract gear w/gear up warning lights activated when one notch of flaps are added.
Flaps with 3 settings
Wing tip strobes
Navigation lights
20 gal header fuel tank
2 six gal wing tanks with electric transfer pump
Stall warning buzzer
Venturi for vacuum source
Center stick
Intercom
720 channel nav/com - Handheld wired to aircraft for power and antenna
Electric fuel gauges for wing tanks
Tan vinyl interior
Shoulder harnesses

Full flight instruments which include:
Airspeed
Slip indicator
Rate of climb
Altimeter
Magnetic compass
Electric compass
Artificial horizon
Adjustable cockpit lighting

PERFORMANCE:
Top Speed: 200 mph (Probably more like 185 mph)
Cruise: 180 mph (Probably more like 165-170 mph)
Stall: 52 mph
Rate of Climb (light): 1200 fpm
Rate of Climb (gross): 800 fpm
Weight: 745 lbs.
Gross Weight: 1340 lbs.
Useful Load: 595 lbs.
Takeoff Distance: 350 ft.
Landing Distance: 600 ft.
Range: 1050 mi. w/1 hr. reserve
Fuel Consumption: 4 gph
The asking price of $8,500 is not even close to what you would have to pay just for the materials to start building one ($6,945 from Rand Robinson right now.) That would not even include the engine, instruments and avionics. As you can see from the panel, it is a very nice setup for an extremely inexpensive homebuilt. Anyway, get in touch and I will be happy to give you all the information I can.
E-Mail: shawn@west-tek.com
Work: 978-461-7270
Home: 978-630-1210
Photos from after the gear collapse